| | | |
| --- | --- | --- |
| Web Site Design | Hosting & Support | SEO |
| Mobile Web Site | Video | Animation |

Promoting your practice online is our specialty! We focus exclusively on providing your practice with a world-class presence. Our design department is lead by a software professional with over 30 years experience specializing in user interface design (how people use computers) and our clinical team is headed by a practicing dentist and a practicing hygienist with over 50 years of combined experience.

Other practice marketing companies do a great job of providing overall marketing services, but when you want a World-Class web site that will stand out above the crowd, you need to call in a specialist. That's where we come in. We can even blend your web site with the rest of your marketing efforts by incorporating your logo and other elements. Your web site needs to be something more than an afterthought!

Take a closer look at what we do:
---
Web Site Design
We start by helping you select a web site address if you don't have one already. Then we send you a simple questionnaire to fill out. Most choices are simple check boxes. From that questionnaire, and design inputs you provide such as a logo or examples you like, we build the prototype of your site for your review. When the prototype meets your expectations, we begin building the actual site. You can have a little or a lot of input along the way.
We have an extensive library of patient education pages, all of which can be tailored to your practice. Detailed descriptions can be modified to match your practice philosophy. Illustrative sketches and before and after photographs can be supplemented with, or replaced by, images from your practice.
---
Hosting and Support
We treat your web site as a Mission Critical piece of your practice.
Your web site is not located on one or two computers in a single location with a single point of failure phone line. We utilize redundants servers in a secure environment with multiple high-speed connections via multiple carriers to the Internet backbone. We also maintain an emergency backup site 30 miles away, also with redundant servers, redundant connections and full battery backup. Additionally, your web site data is secured in a third location to ensure integrity.
Both the primary and secondary hosting sites have daily updates to virus protection software and full-time support to ensure that your web site is up when your patients are!
We manage your entire web presence.
Support includes all of the following:
Web site hosting
E-mail accounts or redirection
Domain renewal
Site usage statistics provided monthly
Ongoing search engine submissions and optimization
Changes to your web site as needed
Exclusivity radius
---
The Truth about Search Engine Optimization (SEO) and Placement (SEP)!
Search engine placement is important, but legitimate web developers don't violate the submission guidelines of the major search engines. Some developers "guarantee" a top ranking in the search engines, but utilize improper and deceptive techniques such as hidden links, cloaking, sneaky redirects, redundant domains, and "doorway" pages to get them. These techniques are prohibited by the major search engines and put the domain name at risk for being totally and permanently removed from the search engines! Guess who suffers most when this happens!
You own the domain name
Some developers don't let you own your domain name (your "dot com" name). This "locks you in" to a particular provider and that's never good.
We build your web site under a domain name that you own. If you ever decide to have someone else build a web site for you, you can use the same domain name.
---
Mobile Web Site
Today, 22% of web page views in the US are from handheld devices (smart phone or tablet). We can create a mobile specific web site that automatically detects a handheld device and delivers the mobile version. The user will have the option to go to the full site instead.
We offer two options for a mobile site: An abbreviated mobile version of your web site, including map, hours, insurance info, payment info and contact info, or we can create a mobile version of your entire site.

Why You Need a Mobile Web Site:
58% of all US Consumers already own a smartphone.
61% of people have a better opinion of brands when they offer a good mobile experience.
Mobile-based searches make up one quarter of all searches.
95% of smartphone users have searched for local info.
We can create a simplified mobile version of our web sites. When someone visits the web site with a mobile device, the device type is detected and they are automatically routed to the mobile version. This version is designed specifically for a touch-screen platform, but on every page is a prominent link to the full version of the site.
---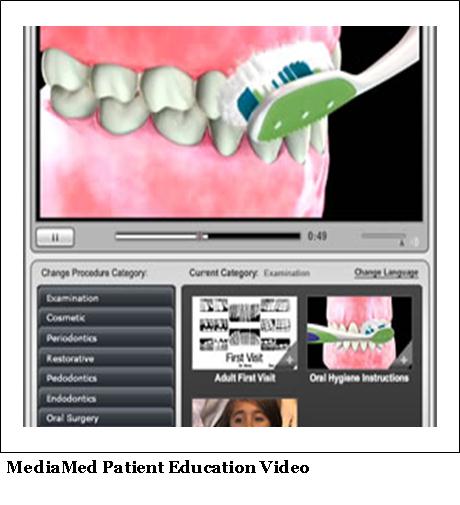 Affordable, effective, state-of-the-art educational videos for your web site!
We have partnered with MediaMed, a leader in online videos, to provide state-of-the-art video presentations for your web site! You can select which videos to include on your site and specific videos can even be added to targeted pages. These videos can play automatically, or they can be set to wait for the visitor to click "play". We are able to provide these videos as a reseller and pass the savings on to our clients.
---
Animation
From custom Flash animations to Java Scripted animation that runs on iPhones and iPads, we can provide stock animations or create a custom animation from images you provide!
| | |
| --- | --- |
| Flash Animation | Java Scripting |
| | |
Flash animations, like the one at left, have been used for many years to provide animated elements to web sites. They work well in a PC environment. Java Scripts, like the one at right, are becoming popular because they will display on iPhones and iPads (Flash will not). We offer both Flash animations and Java Script animations.